Most speakers are usually large in terms of size. Nowadays, a lot of companies have been making an effort to create portable speakers that can still produce a loud and clear sound. Creative seems to have successfully done this through the Creative Muvo 2c.
Creative Muvo 2c is a powerful, compact, and splash-proof Bluetooth speaker. Compared to speakers near its price range, this speaker contains a lot of features and is definitely louder than it looks. Of course, there's still the question if it's truly worth its price. You'll find out more here.
Design
The Creative Muvo 2c is pocket-sized so the user can easily bring it anywhere. The company really made an effort to make sure that the speaker doesn't take up too much space. The device also seems to be durable as it is made of grip-friendly plastic with a metal front grille. The word, "Creative" is written on the front grille while its oversized passive woofer can be found on the back with the product's name. Furthermore, the device is also weatherproof and splash-proof with an IP66 rated outer shell. Its ports are protected by a removable rubber cover as well. Do note that the device is only splash proof meaning it can only withstand getting blasted by water. Dropping it in a pool of water is a different story altogether.
The Creative Muvo 2c is available in the colors – Red, Green, Blue, and Black. In this review, we'll be using the red variant of the device. The speaker measures 67 x 93 x 38mm and weighs 165g. The design is honestly a plus for me since it looks simple and easy to use. In addition, based on the existing opening at the side of the Muvo 2c, a strap holder can be attached to it.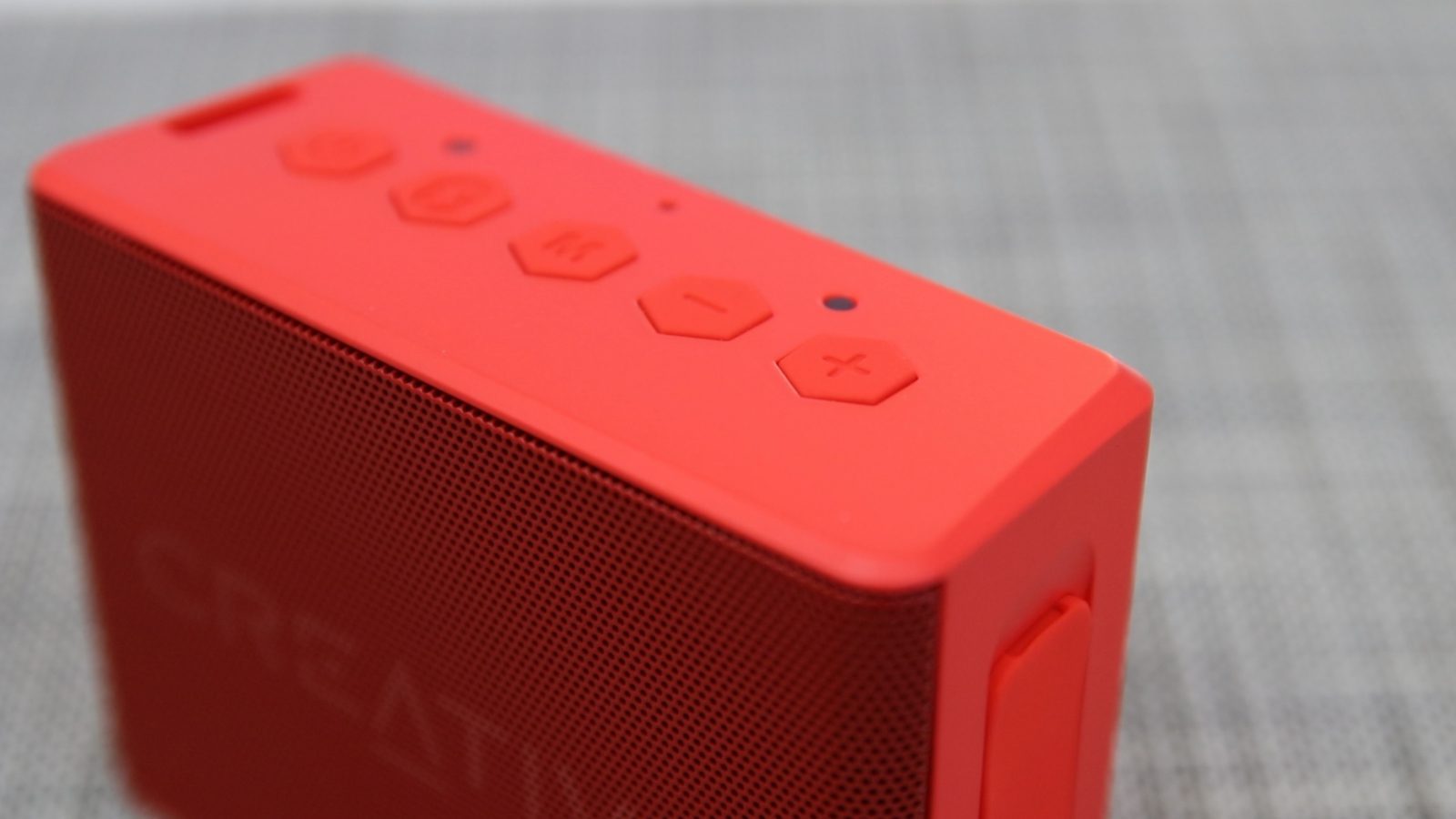 The buttons are positioned at the top part of the device. The buttons consist of the power switch, Bluetooth pairing, volume control, and the mode button which lets you switch between modes. In order to confirm which mode you're in, all you have to do is look at the multi-colored LED light at the top. Here are the Light colors with its corresponding modes:
Blue – Bluetooth mode
Yellow – MP3 player / SD Card
Purple – USB
Green – aux input
All in all, the device has 4 modes hence providing a 4-way music playback. The Creative Muvo 2C is automatically set on Bluetooth mode upon startup. Connection through this mode is stable. As for its SD card, the Muvo 2c can support up to 128GB. We tried to see if the Muvo 2c can really switch between modes and we weren't disappointed. Switching between modes was very easy and it didn't necessarily cut its connection with another device that's on standby.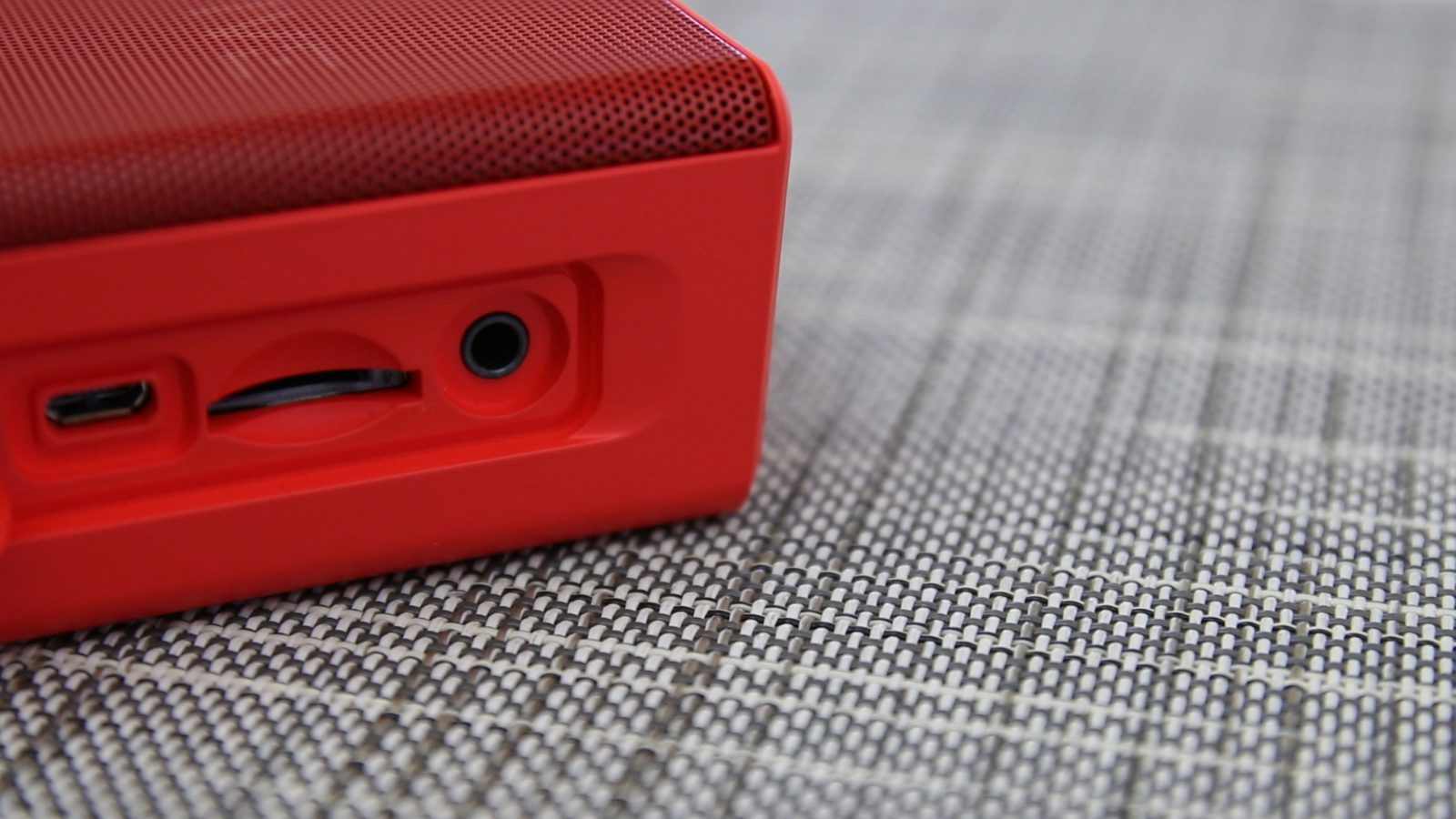 Located at the side covered with a rubber flap are the 3 ports. The device has an aux-cord port, SD card, and a USB port. In addition, this device contains a built-in speakerphone enabling the user to take and accept calls through the pin-sized microphone at the top.
The user may also connect the speaker with others for a wider experience through the Muvo 2c's Wireless Stereo Link. This feature lets you connect two speakers wirelessly.
The Creative Muvo 2c arrived inside a transparent acrylic display box along with a Micro USB cable.
Audio Performance
At first, we expected that the Muvo 2c might not produce a room-filling sound. We were pleasantly surprised however when it did. Despite its small size and low-cost, it still managed to give out a satisfying sound that didn't sound scratchy even at max volume. There was even a hint of bass that can be heard.
The sound produced also wasn't harsh. Although the Creative Muvo 2c is ideal for listening to music inside enclosed spaces, we can't really recommend using it during loud parties and in large open-spaced areas as it wasn't loud enough for that.
The speaker has 5 hours of playing time so this might not be suitable for long trips unless you bring a charger with you.
Verdict
Price-wise, the Creative Muvo 2c is a good deal since it does produce a loud and good quality sound despite its small size. It is also very portable and can be easily brought to a lot of places even in pools and beaches due to its splash-proof feature.
Price and Availability
The Creative Muvo 2c is available and can be purchased in Lazada with the price Php 2,800.
Creative Muvo 2c Specs
Specs:
Dimensions & Weight: 67 x 93 x 38mm, 165g
Colors: Black, Blue, Green, Red
Bluetooth version: 4.2
3.5mm Aux-in, USB Audio, Micro SD card
Battery type: Built-in Lithium-ion, 600mAh
Battery life: 5 Hours
Charging Interface: Micro USB
Drivers: 1 x Full-range, 1 x Bass Radiator
Wireless Stereo Playback: Yes, up to 2 speakers
Speakerphone, Volume Control, Music Control
Included Accessories: Micro USB Cable (0.6m)
You can watch our teaser video here.
If you have any additional inquiries about the device, visit the Creative Philippines' Facebook Page.