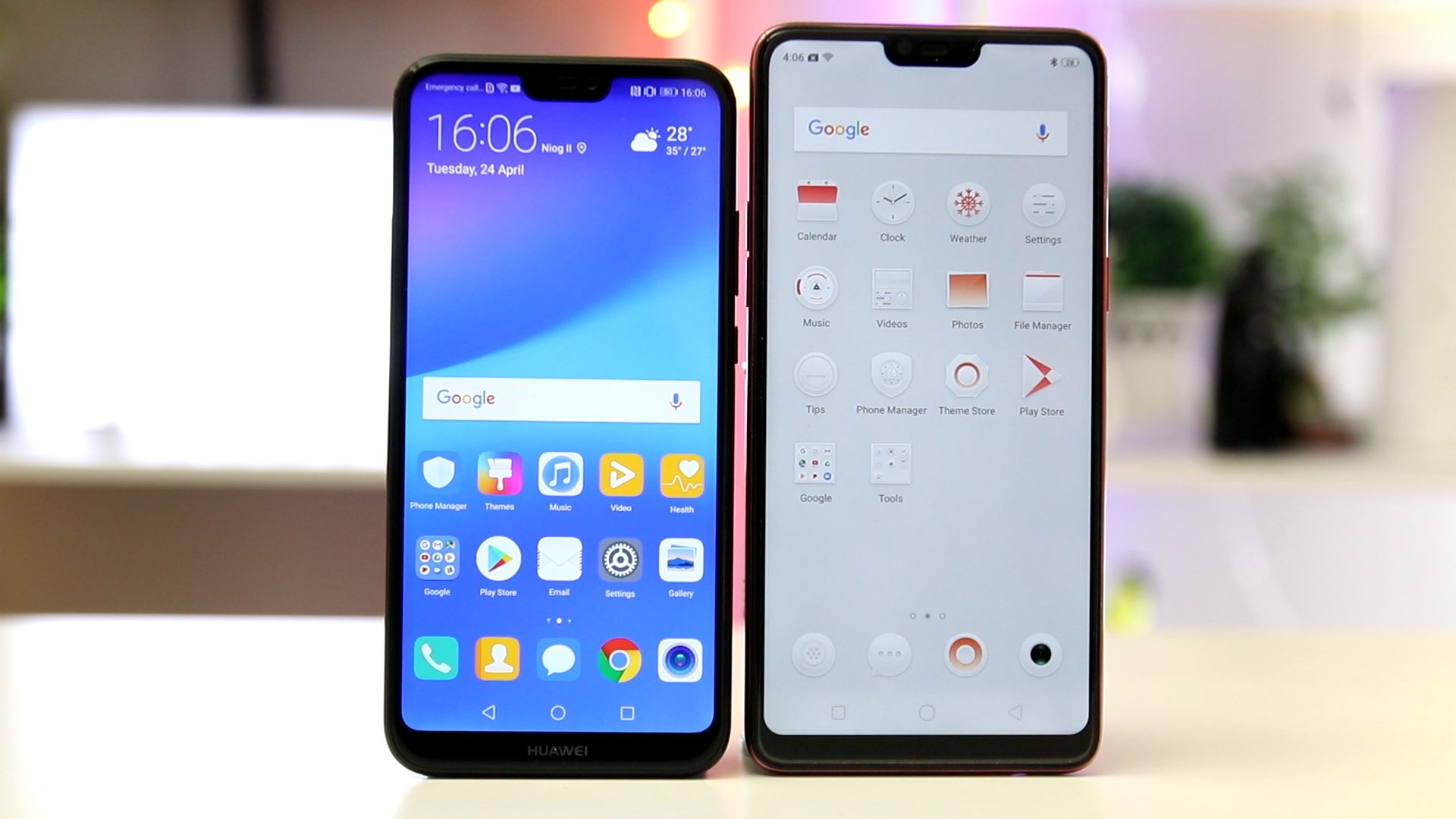 Oppo F7 is making a huge wave since its launch almost dominating the Philippine market. While Huawei P20 Lite also known as Nova 3e is not yet making a loud noise here in the Philippines. But just by hearing its name, what will eventually pop in your mind is its high-end parents making a good impression towards the smartphone. 
Now, these two offers good specs and trendy design, but which one is best for you? 
Specifications
| | | |
| --- | --- | --- |
| Phone | Huawei P20 Lite | Oppo F7 |
| Display | 5.84″ LTPS IPS LCD capacitive touchscreen, 1080 x 2280 pixels (~432 ppi density) | 6.23″ LTPS IPS LCD capacitive touchscreen, 1080 x 2280 pixels (~405 ppi density) |
| Dimensions | 148.6 x 71.2 x 7.4 mm | 156 x 75.3 x 7.8 mm |
| Chipset | HiSilicon Kirin 659 | Mediatek Helio P60 |
| CPU/OS | Octa-core (4×2.36 GHz Cortex-A53 & 4×1.7 GHz Cortex-A53) / Android 8.0 (Oreo) | Octa-core (4×2.0 GHz Cortex-A73 & 4×2.0 GHz Cortex-A53)/ Android 8.1 (Oreo) |
| GPU | Mali-T830 MP2 | Mali-G72 MP3 |
| Memory | 4GB of RAM, 32/64 GB internal storage(expandable up to 256 GB) | 4GB of RAM, 64 GB internal storage or 6GB of RAM, 128 GB internal storage |
| Connectivity | LTE, Wi-Fi 802.11 b/g/n (LX2/LX3) or a/b/g/n/ac (LX1/LX2J), B.T. 4.2, GPS, NFC, Type-C 1.0 reversible connector | LTE, Wi-Fi 802.11 a/b/g/n/ac, B.T. 4.2, GPS, micro USB 2.0 |
| Battery | Non-removable Li-Po 3000 mAh battery, Fast battery charging 9V/2A | Non-removable Li-Ion 3400 mAh battery |
| Features | Face Recognition, Fingerprint (rear-mounted), accelerometer, gyro (except LX2), proximity, compass |  Face Recognition, Fingerprint (rear-mounted), accelerometer, gyro, proximity, compass |
Design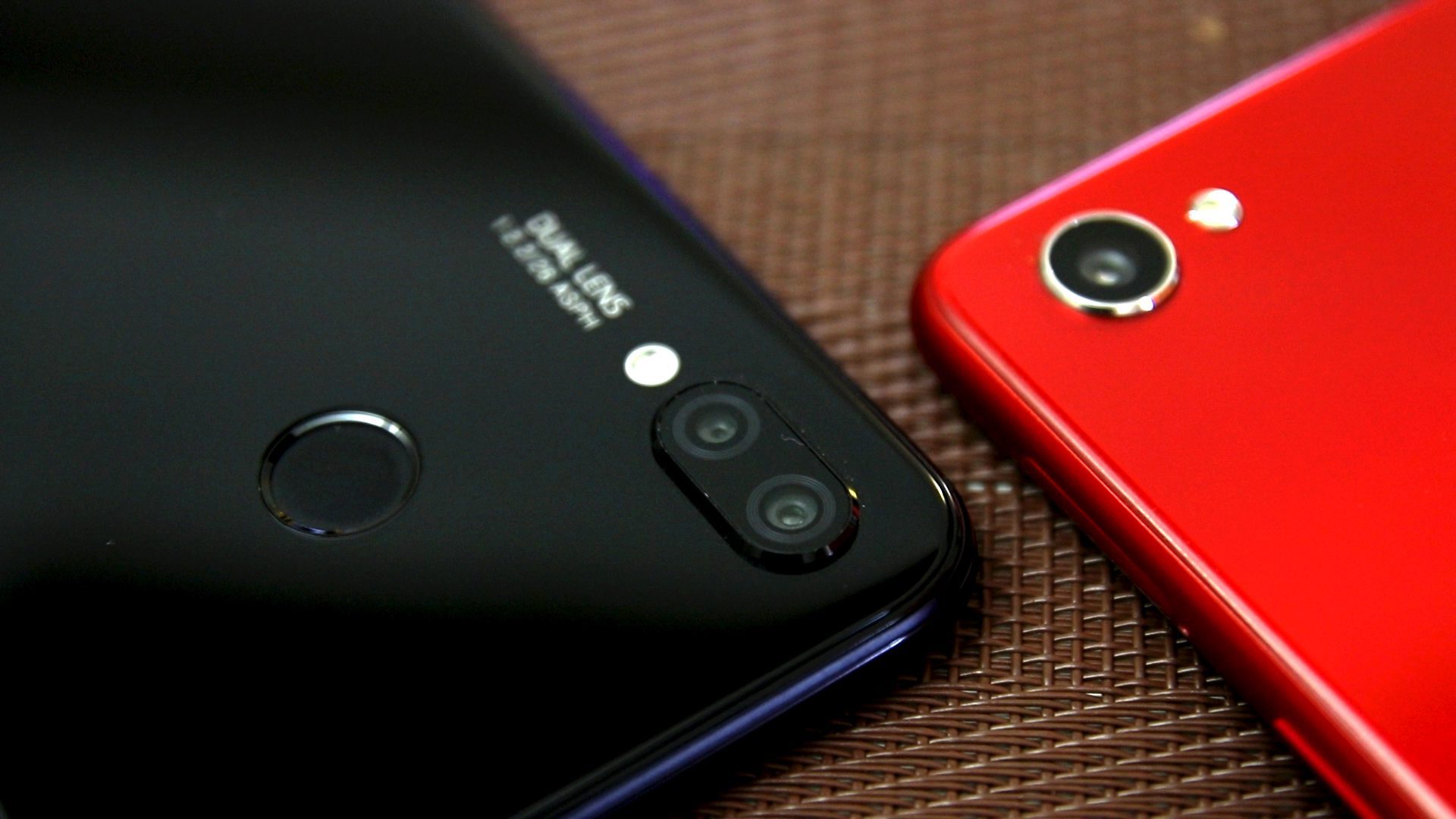 As what we've mentioned on Oppo F7 review, the Chinese manufacturer switched from metal back panel to all-plastic body. While Huawei P20 Lite has a glass front and back with metal frame and curved edges.  Both handsets sport the famous notch and all screen display making these two-look attractive.  
At the back, both handsets placed the fingerprint scanner where our hands can easily reach. Oppo F7's camera is placed on the side same with Huawei P20 Lite with vertically aligned dual camera setup. The physical buttons on the sides of both smartphones are the power button and volume rockers and a sim tray.  
While P20 Lite went to the latest type C reversible connector, the Oppo F7 still remains on USB 2.0 port. Type C charging is a bit of advantage here because it offers fast charging compared to USB 2.0 port. There's also audio ports and speaker grille at the bottom of the handsets. 
Display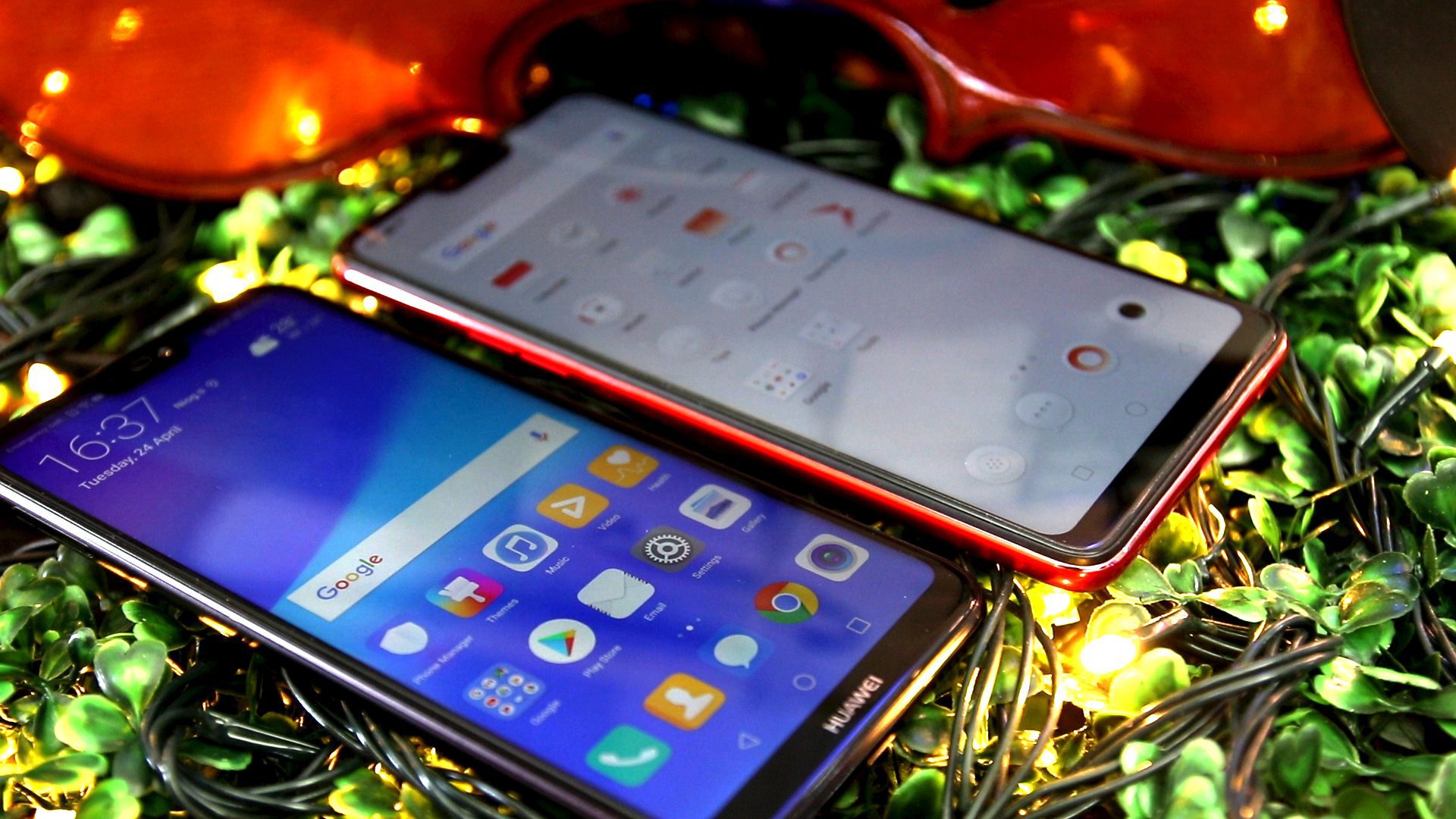 The Oppo F7 features a 6.23-inch in-cell IPS display with a resolution of 1080×2280 pixels while Huawei P20 Lite sports a 5.84-inches HUAWEI FullView with the resolution of 2280 x 1080 FHD+. 
So, if you prefer a bigger smartphone then Oppo F7 is for you. However, if iPhone X-like notch of these phones annoys you, you won't have a choice but to deal with it on Oppo F7 but good thing P20 Lite provided an option to hide the notch. 
User Experience 
For both handset's security features, the fingerprint scanner works well though there are times that Oppo F7 has a faster response than P20 Lite. Face unlock is also present in both phones that works well in dim lighting situations. 
As we tested the face unlock, Huawei P20 cannot be unlocked when your eyes are closed while Oppo F7 can recognize you even if you close your eyes. This is a bit of a problem because it can be unlocked even when you're asleep. So, come to think of it, does it really secure your phone? 
Oppo F7 powered by MediaTek Helio P60 processor coupled with a Mali-G72 MP3 GPU and 4GB of RAM while Huawei P20 Lite is powered by HiSilicon Kirin 659 processor coupled with Mali-T830 MP2 with 4GB RAM and 64GB internal storage. 
Navigating on both phones are smooth even multi-tasking on these device works no problem. 
We tested some benchmark tools and these are the results: 
For Huawei P20 Lite
| | |
| --- | --- |
| Benchmarks | Huawei P20 Lite |
| Antutu | 88072 |
| Geekbench (single-core) | 926 |
| Geekbench (multi-core) | 3693 |
| PCMark Work | 4726 |
It's not outstanding when it comes to playing mobile games and you might encounter some hiccups in-game but all in all, it was decent and can still manage to handle intensive multitasking.
For Oppo F7
| | |
| --- | --- |
| Benchmarks | Oppo F7 |
| Antutu | 139768 |
| Geekbench (single-core) | 1524 |
| Geekbench (multi-core) | 5807 |
| PCMark Work | 7993 |
Playing on this phone was smooth and we didn't encounter any lags during games. However, intensive usage like playing games or watching movies for a couple of hours makes the phone heat up a little bit.
It's obvious which phone dominated in Benchmark tests, Oppo F7 is great for those into heavy mobile games and intensive multitasking.
Camera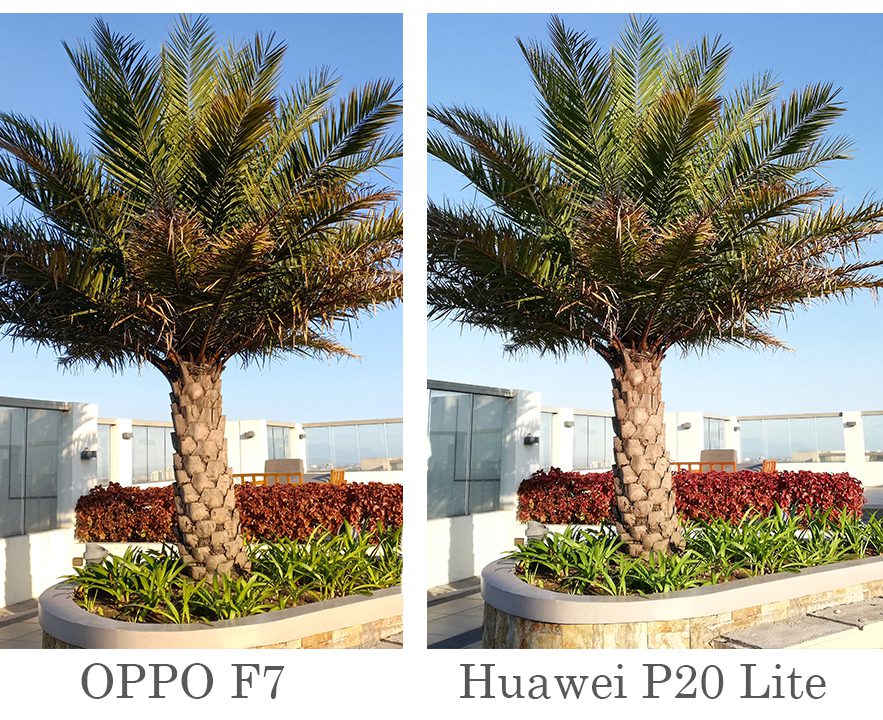 As you can see there's a subtle difference between Oppo F7's shot and Huawei P20 Lite. Colors on Oppo F7 is a bit vibrant compared to Huawei P20 Lite that has more light exposure and appears to be more natural in the photo.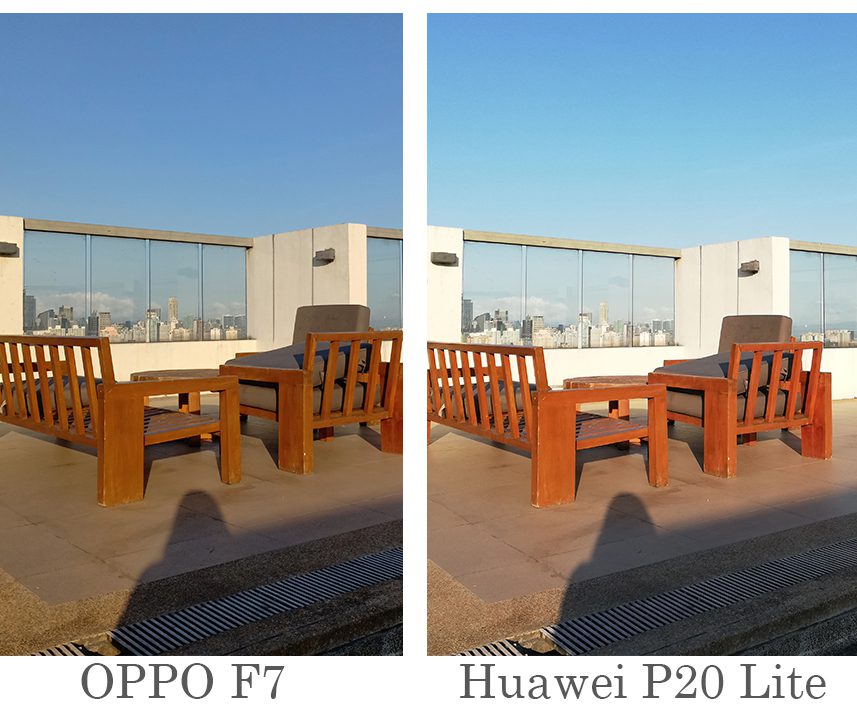 The contrast level of Oppo F7 is higher than P20 lite rendering lighter photos. As you can see the hues of sky and the chairs are darker than P20 lite, however, its crisp makes the shot more attractive than the Huawei's.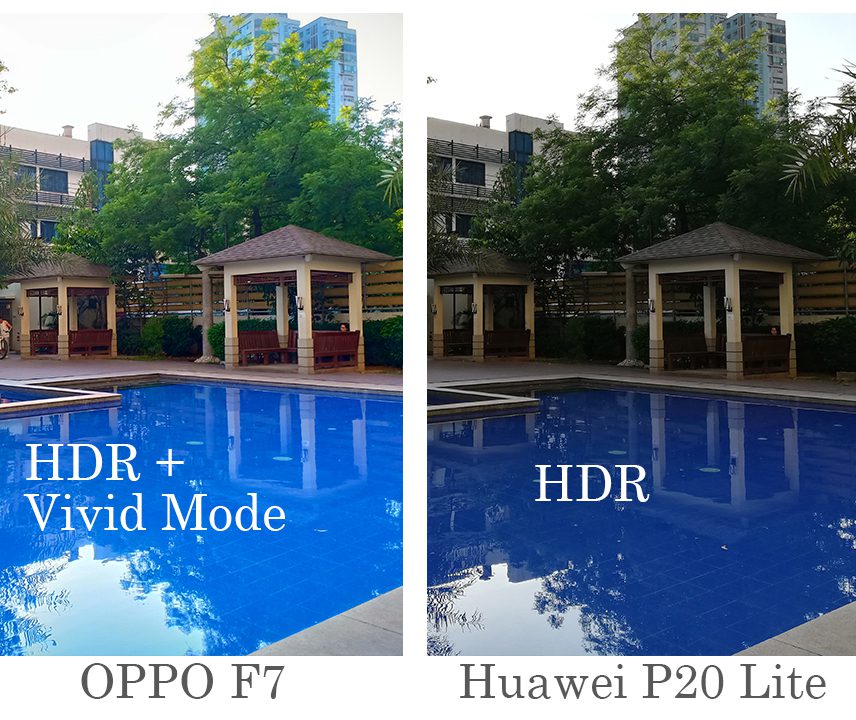 HDR with Vivid mode on Oppo F7 looks really nice, all colors are vibrant and lively however in some perspective this is a bit much on the colors. While HDR on Huawei P20 Lite is more on a natural side. Oppo F7 captured a lot of good details on this while P20 Lite didn't because it has a lot of dark areas. 
For the portrait mode, Oppo F7 shot seem like a normal mode because the blur is not noticeable in the photo. Also, the lights are too yellow compared to P20 Lite that is the closest to the natural color of the surrounding. Same with Oppo F7, its portrait mode didn't do well its job to make Lord Vader stood out. 
For the lowlight shots, Huawei P20 Lite's subject looked pale for the shade of yellow while the background is better compared to Oppo F7 that has fine details with the subject until you see the lights around it, it's a bit scattered and cloudy.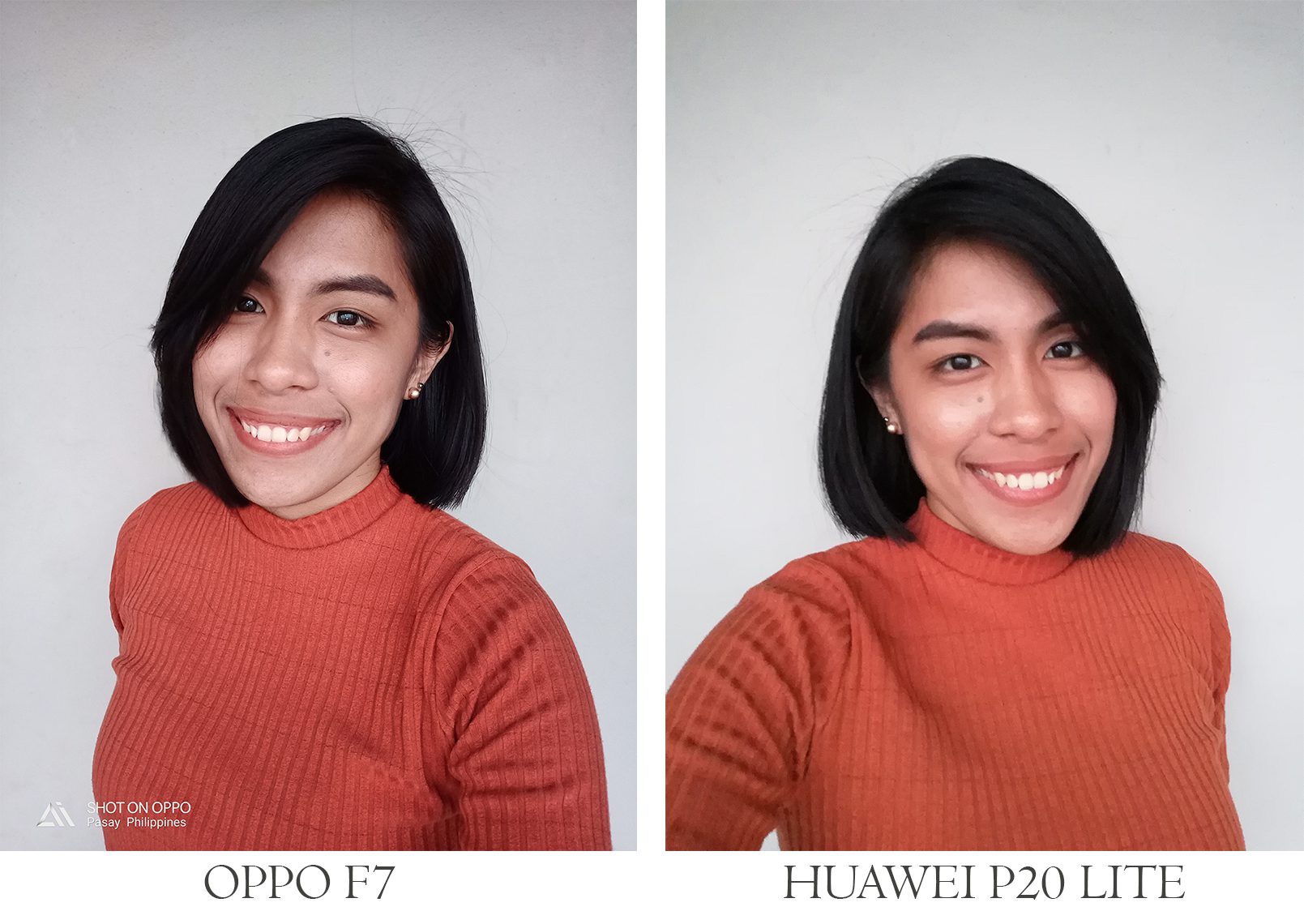 Oppo F7 really is capturing the real you, as you can see the subject's details are really sharp. Even the strands of the hair are visible in the photo. The Selfie Expert impressed me. On the other hand, Huawei P20 Lite is a bit softer when it comes to the face of the subject, filtering some flaws on the face but still managed to look natural. Both selfies here is really nice.
Now, using the beauty effect on level 6, the Oppo F7 is quite ridiculous. It was too much, and I don't think a lot of people would like to look like this on their social media. Huawei P20 Lite despite the effects still managed to look close to natural.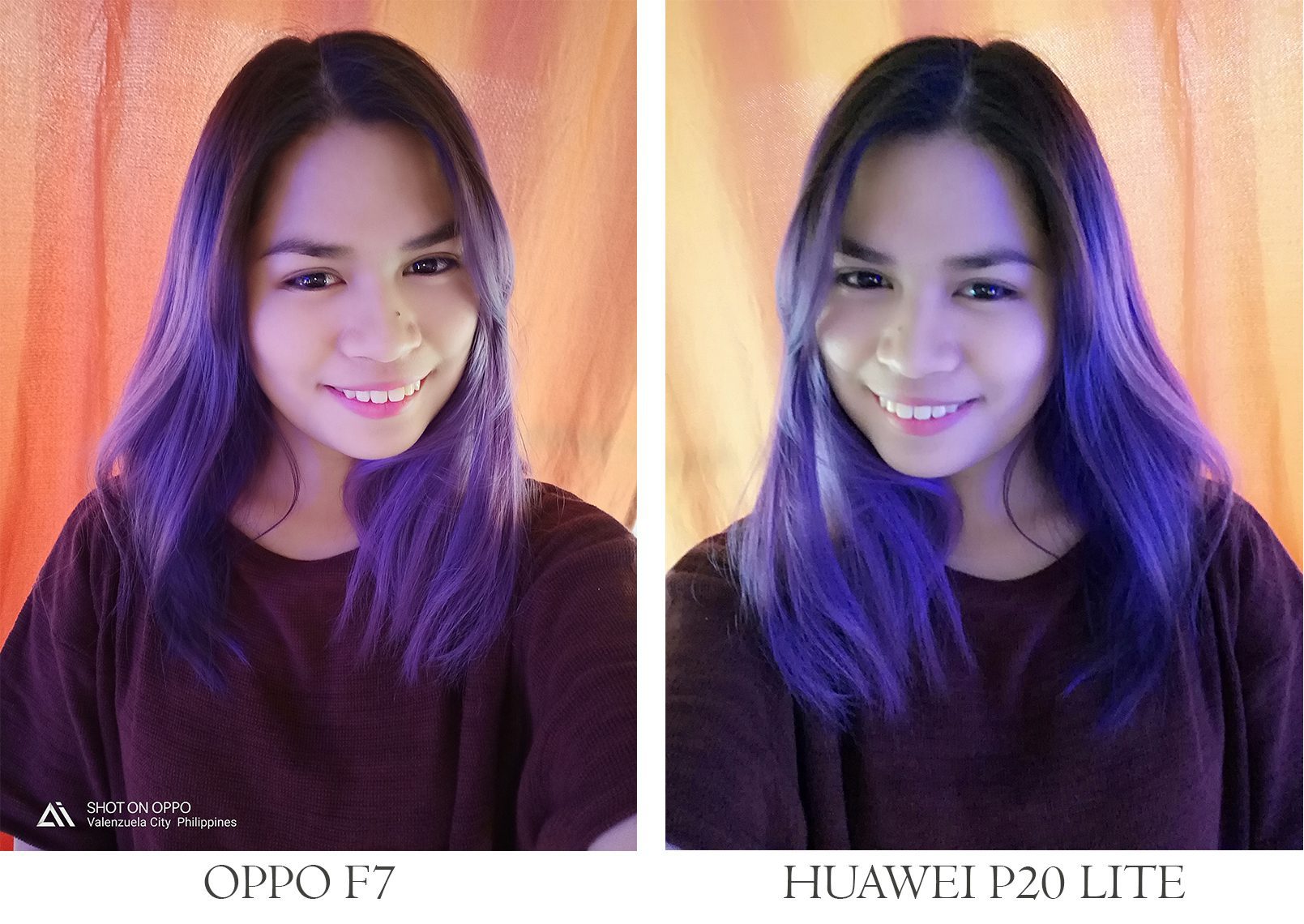 For low light situations, it's nice how vibrant the colors are on Oppo F7, it made the subject looked fresh because the color of the skin is close to natural while on the P20 Lite the skin looked slightly pale. While most of the rear photos of Huawei got the natural color, on this one it looks like Oppo F7 got the close to real colors of the photos.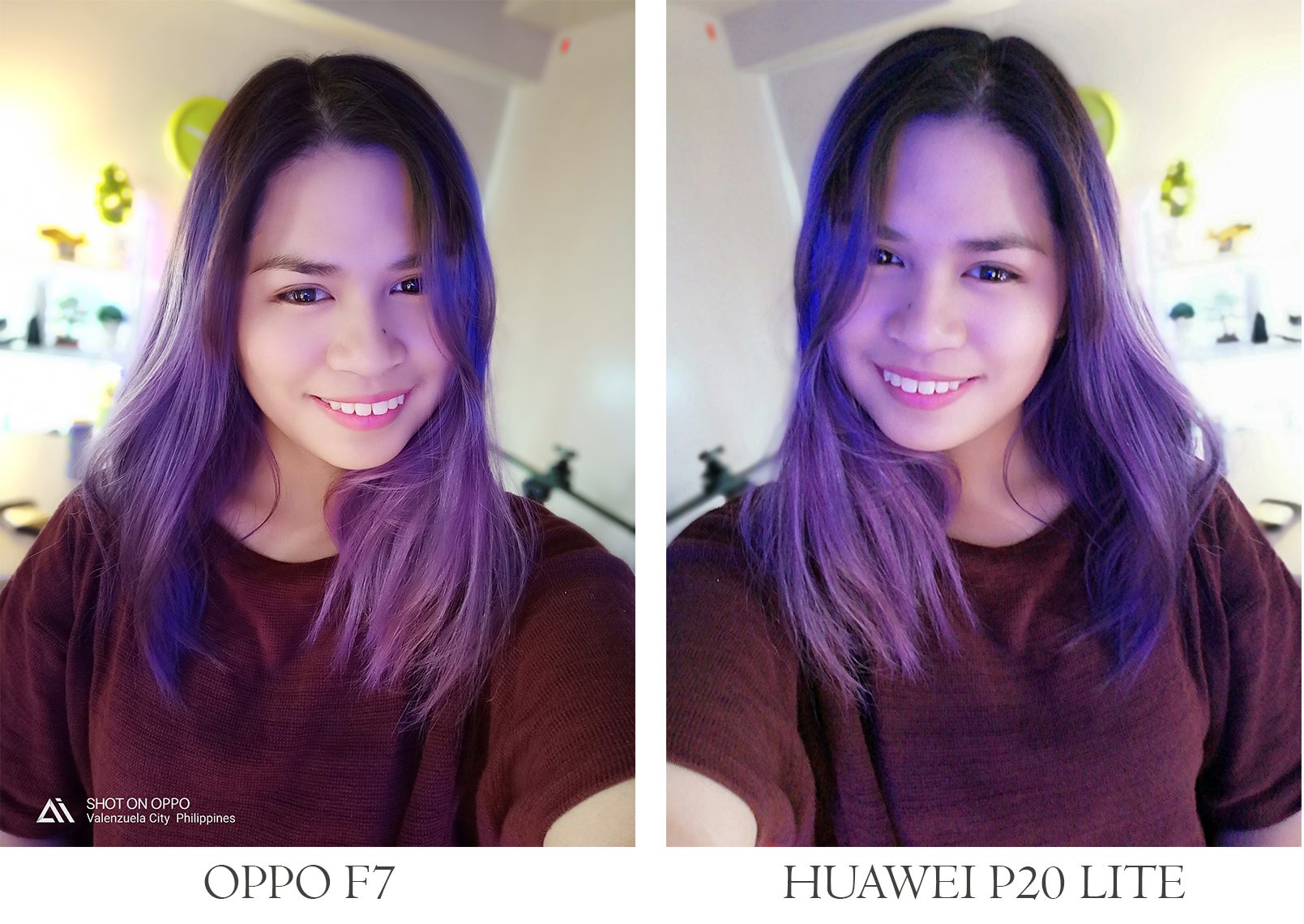 The portrait mode of both phones did well its job to make the subject stood out. Though the accuracy on the edges may not be outstanding, it's still forgivable for midrange handsets.
Audio 
Both offers a good sound thought these two may not be the loudest and clearest, it can provide a decent sound. However, pushing to the maximum level can be a bit scratchy. 
Battery
One of the important specs, when we're looking for a phone, is how long it would take to run out. So, for the battery capacity, we're Oppo F7 on this side. Obviously, because it has a bigger battery juice than the P20 Lite.
For charging time, it took us 1 hour and 45 minutes for Huawei P20 Lite while it is 1 hour and 5 minutes from 20% to 100% for Oppo F7.
Verdict
All in all these handsets offers good specs for a reasonable price. They both have a department they have flaws but it's forgivable for a midrange smartphone. We're impressed with the camera quality and other specifications and I cannot say which one is I like the most. However, if you say that Huawei P20 Lite won this one because it's a bargain compared to Oppo F7, well I cannot argue with that but Oppo F7 has a lot of features that are better than Huawei P20 Lite.
For the retail price, Huawei P20 Lite is Php15, 990 and Oppo F7 is Php17,990. Both are worth to be in your pockets but the question is which one suits you the most?